Disable WSUS on SBS 2008 or 2011
Disable WSUS on SBS 2008 or 2011
Why you should Disable WSUS on SBS 2008 or 2011 ?
At time you may need to disable WSUS on SBS2008 or 2011 rather than uninstalling as on a SBS 2008/2011 server all the components like Exchange, SharePoint, WSUS, etc. are linked with SBS Console. If we uninstall any of the above components from the SBS 2008/2011 server, we may come across SBS Console crashing issues.
Hence, to avoid this situation, its recommend disabling the component instead of removing/uninstalling them.
How to Disable WSUS on SBS 2008/SBS 2011:
Log into the server.

Go to Services.msc

Right click on "Update Services"

Select "Stop".

After stopping it select "Disable"

Click OK.
Now go to GPMC.msc

Expand "Forest -> Domains –> Domain Name –> Group Policy Objects"

Right click "Update Services Client Computer Policy".

Select "All settings disabled".

Repeat Steps 9 and 10 for
Update Services Common Settings Policy
Update Services Server Computers Policy
Open registry editor in elevated command prompt :Run as administrator : regedit

Navigate through HKEY_LOCAL_MACHINESoftwarePoliciesMicrosoftWindowsWindowsUpdateAU
If the above key does not exist, please create the new keys as required. [Note : May need to create WindowsUpdate and AU keys]
Create new DWORD(32 bit) Value "UseWUServer " without quote.
Set the value as 0 .
Disable WSUS Administration and WSUSPool from application pool from IIS Manger
Open Internet information Services (IIS) Manger.

Select Application Pools in the Right pane and then select WsusPool .

Click on Stop in the Application Pool Tasks if its running under Actions .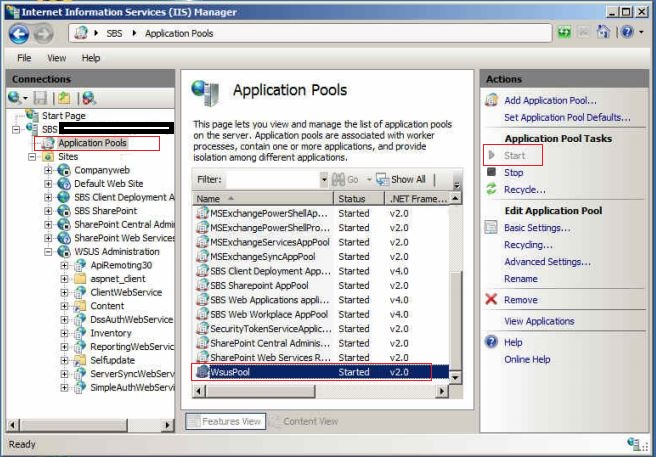 On the same page ,after disabling WsusPool from application pools, select WSUS Administration and stop the same from Actions
Steps to detach the WSUS Database
Launch SQL Server Management Studio Express console as an administrator. It is located under

Start > Programs > Microsoft SQL Server 2005 > SQL Server Management Studio Express.

Fill in the following information and then click Connect
Server type: Database Engine
Servername: \.pipeMSSQL$MICROSOFT##SSEEsqlquery
Authentication: Windows Authentication
SQL Server 2005 Login Prompt
Expand Databases and right-click on SUSDB and select

Tasks > Detach

… from the context menu.
SQL Server 2005 Database
Select the "Drop Connection" checkbox and click OK.
WSUS Database Drop Connection
Restart the windows update service.

Close all the windows and log off from the server.
From: http://sangnak.com/disable-wsus-on-sbs-2008-or-2011/